I LOVE HK.
And then, in "The Hunger Games," there's a quote that reads: "Every revolution begins with a spark."
I genuinely believe in these two profound quotes. And that's why today, my thoughts are with the brave peoples of Hong Kong, from students to working professionals, standing up for something they believe in and fighting for a universal right, namely universal suffrage, that we, as humans, should each have. I stand with you. I feel your pain and suffering.
I say peoples, and not people, of Hong Kong because it's a diverse city comprised of so many backgrounds, beliefs, national and ethnic origins, race, religions and sexualities, all of whom are united to defend the freedom that Hong Kong has enjoyed over the past decades. It is precisely this freedom that has allowed Hong Kong to become a cultural, economic and political beacon in the East to so many.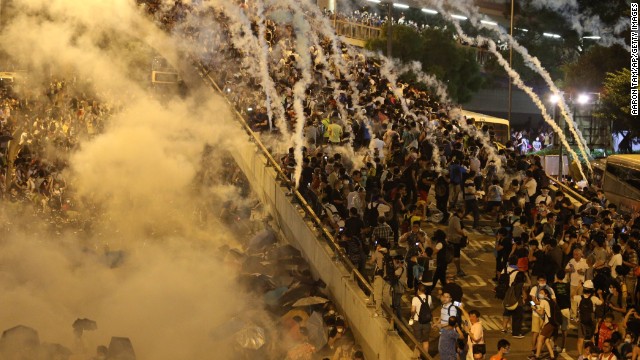 Hong Kong today, September 28, 2014. Courtesy: CNN.
Governments like China cannot endure, at least not in their current form, especially in this new digital age. And a simple spark can lead to something revolutionary. The way governments work is a new game for this next century—people can demand their voices to be heard, more so than ever before and I believe what is right will prevail. Hong Kong has been so prosperous because of the equality and freedom—freedom of assembly, of expression, of information, of the press, of speech—that has existed over the past several decades. I don't think there is anywhere as prepared as Hong Kong to remind us that freedom is truly not free and must be defended daily.
My heart hurts and I am saddened seeing the devastating photos come out of Hong Kong, photos of streets that I have walked on and admired. But it also makes me proud of the citizens of Hong Kong. In Hong Kong, just like as in American cities, these shouldn't be seen as embarrassments, but rather, a functioning civil society able to hold thoughtful conversations and stand up for what they believe in. The government is the entity that should be embarrassed for their oppressive response and for governing without the consent of the governed.
That's why I also think, for me, I find stories like "The Hunger Games" so powerful, because people are living out these scenarios each and every day. It's quite inspirational if you think about it.
Night lights in Hong Kong, Summer 2013.
"Echoing Tiananmen, 17-year-old Hong Kong student prepares for democracy battle"
CNN and CNN International
—"Fear has been deeply rooted in our genes through the past 65 years. The majority of China's 1.3 billion people are not true citizens; most of the people are simply submissive."
—"You can form political parties in Hong Kong. You can publish books that are forbidden in mainland China. The media can criticize the central government and the chief executive of Hong Kong."
—"Mainland China is a tinderbox that's been physically suppressed by the authorities, and Hong Kong is a seed of fire."
—"The Communist Party is very scared of this tiny bit of land, because if true universal suffrage can blossom in Hong Kong, it is very likely true universal suffrage will end up happening in the mainland."